Dear Korean, 

Given that U.S. just legalized same-sex marriage for all states, how is gay marriage progressing in Korea?
Gwyneth
It has been nearly eight years since
TK last touched upon the issue of homosexuality in Korea
 in this blog. Considering the major step that the United States took in legalizing same sex marriage, it is high time to revisit this issue. This is not because TK thinks that whatever America does just matters more. He is fully aware that more than 17 countries around the world, including Canada, South Africa, much of Europe and much of South America, have legalized same sex marriage before the United States did. 
But if one focuses on the prospect of same sex marriage in Korea, the fact that U.S. legalized same sex marriage does matter more. Because of the historical peculiarities of South Korea--a country that was, in many ways, created by the United States--Koreans have always looked to U.S. as a model of modernity and democracy to emulate. When debating social policies in Korea, the argument that "This is how Americans do it" tends to carry a great deal of weight.
In fact, America's legalization of same sex marriage puts Korean opponents of same sex marriage in quite a pickle. Like most other democracies, Korea has conservatives and liberals, and Korea's conservatives tend to be more pro-U.S. Some Korean conservatives are so rabidly pro-U.S. that, when U.S. ambassador to Korea suffered a knife attack, they organized a show of music and dance wishing for his speedy recovery as if they were trying to appease an angry god. (To be sure, most Koreans and Korea's media, including even the pro-American ones, roundly mocked these people.)
Dance performance by a conservative group
following the knife attack against Ambassador Mark Lippert
(source)
The trouble, however, is that a sizable chunk of Korea's conservatives are also Protestants who strenuously oppose gay marriage, and homosexuality in general. The fact that their totemic guardian U.S. of A. has legalized same sex marriage has put them in a very awkward position. For example, because the U.S. Embassy in Korea has formally expressed its support for Korea's Pride Parade for the last several years, these conservatives groups were forced to (reluctantly) denounce America.
Christian group stages protest in front of the U.S. Embassy in Seoul.
The placard says: "We denounce U.S., spreading the bad culture that is homosexuality."
(source)
Indeed, the same "crazy group dance people" organized the same dance show to show their opposition against the most recent Pride Parade in Seoul, which fortuitously happened the day after the U.S. Supreme Court handed down the
Obergefell v. Hodges
decision. The irony was particularly delicious because Ambassador Mark Lippert, for whose health that these people prayed as if he were a demigod,
was in attendance to support the Pride Parade
.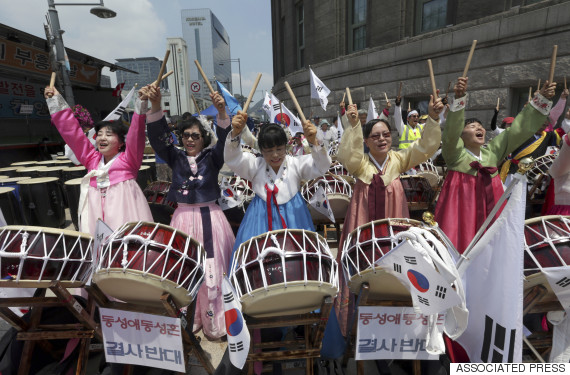 Opponents of homosexuality puts on a protest performance.
(source)
Aside: apparently, the drum beats of the anti-homosexuality people were so vigorous that some of the Pride Parade attendees had a better time dancing to them instead of the official music showcase.

(More after the jump.)

Got a question or a comment for the Korean? Email away at askakorean@gmail.com.